10 Most Promising Video Conferencing Solution Providers in India - 2018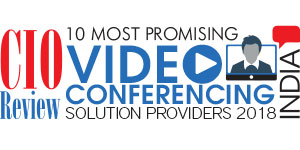 The business environment is being driven by rapidly emerging technology developments and workforce and workplace shifts, where collaboration is now at the forefront of the strategic plans of large and small enterprises. Consequently, video conferencing adoption is increasing to meet these needs as enterprises turn to higher quality, lower-cost video technology, to build better teams, speed product, and process development, reduce reliance on travel, share knowledge and experiences among team members and improve the overall workforce collaboration. Video conferencing is also, in turn, now evolving beyond its role as a traditional standalone room-centered technology and adapting quickly to meet a whole new standard of customer requirements.
Video Conferencing vendors are increasingly seeking out new innovations in the form of WebRTC for browser-based video conferencing, VCaaS services; Mobile Conferencing and Cloud-based Unified Communications and Collaboration (UCC) to help organizations economically deploy more efficient solutions and increase the productivity of their workforce. Moreover, the industry is also moving towards solutions that support integration, with companies looking at ways to integrate video conferencing into their unified communications architectures, extend video conferencing to mobile and remote users via desktop and cellular devices, enable video conferencing across company boundaries, and meet the need to manage video delivery and quality.
In the light of these developments, organizations are in need of solutions that encompass these innovations while offering a strong performance at lower price points, and more effortless integration into the work environment. With the objective to address the crucial need of CIOs to find the ideal Video Conferencing technology, CIOReview identifies "10 Most Promising Video Conferencing Solution Providers in India." Being closely scrutinized by a distinguished panel including CEOs, CIOs, CXOs, analysts and CIOReview editorial board, we believe that these companies have the technical skill sets and business acumen to help organizations stay abreast of these developments with solutions that will deliver more value and competitive advantage in the long run.
We present to you CIOTechOutlook 10 Most Promising Video Conferencing Solution Providers in India - 2018.
Top Video Conferencing Solution Providers in India
| | |
| --- | --- |
| Avaya | A provider of VideoConferencing solutions for conference room systems and desktop Applications. It offers communications, conferencing and infrastructure solutions that integrate voice, video,... |
| C3 iT Xperts | A provider of Audio Visual and Conferencing solutions, who is specialized incollaborative Technology design, integration, training, and support |
| Epitome Corporation | A provider of a portfolio of services related to Live Video Broadcasting, Live Webcasting/Streaming, Intranet Streaming, Video Conference, Video on Demand, 24X7Live Web TV, Video Conference for... |
| Microlink Solutions | A provider of Audio Visual products and solutions that integrate audio, video, display and system controls for boardrooms, conference rooms, auditoriums, training rooms, home Automation and... |
| Polycom Unified Communications Solution | A provider of video, voice, and content solutions. It is specialized in open standards-based unified communications, HD video and voice conferencing solutions and unified Communications... |
| Siemsys Solutions | A provider of audio visual integration, unified communications, video conferencing, voice and cloud services to thousands of companies |
| Solutions India Systems | A provider of Audio Visual Solutions and Presentation Products |
| Tasktel Technologees | A provider of a portfolio of products related to Audio Collaboration, Video Collaboration, Board Room AV Solution, Multimedia Collaboration and Digital Signage Solution |
| ZeroMiles | A provider of solutions in the areas of Enterprise Collaboration, Video & Web Collaboration, Unified Communication and Audio Collaboration, and Video End Points & Audio Accessories |
| Zoom Video Communications | A provider of communications software that combines video conferencing, online meetings and mobile collaboration. Its platform facilitates video and audio conferencing, messaging And webinars... |