20 Most Promising Video Surveillance Solution Providers - 2019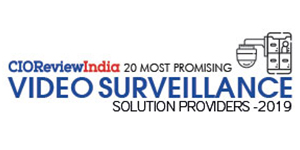 The global video surveillance market is projected to reach USD 87361.8 million by 2025. As we are operating in a world that is in need of ever-growing safety demands and is expected and required to have a certain level of security across various areas such as commercial facilities, office spaces, universities, Government enterprises, financial institutions, healthcare organizations etc., there is a huge demand for safety and surveillance system. In addition to this, rise in need of safety in high risk areas, growth in transition from analog surveillance to IP cameras and integration of internet of things has fueled the growth of the video surveillance market size. Increase in trends toward development of smart cities is expected to offer lucrative opportunities for market expansion.
The first digital video surveillance system that was introduced in the 1990's did not possess better image quality, remote monitoring capabilities, in-built system intelligence etc. However, today through technological evolution, the CCTV systems are already able to recognize faces with high accuracy. Furthermore, with an aim to turn cameras from passive observers into participants, the surveillance system providers are building systems that will have the ability to identify non-standard situations as well.
By the looks of it, we understand enterprises are on a constant lookout for Video Surveillance solution providers who can keep them in pace with the changing norms. CIOReviewIndia presents a list of "20 Most Promising Video Surveillance Solution Providers - 2019". Being closely scrutinized by a distinct panel of judges including CEOs, CIOs, CXO, analysts and CIOReviewIndia editorial board, we believe these solution vendors will help in transforming business processes through their significant offerings.
We present to you CIOTechOutlook 20 Most Promising Video Surveillance Solution Providers - 2019.
Top Video Surveillance Solution Providers
| Company Name | Company Description |
| --- | --- |
| UIVS | Provides Real time video surveillance services and software solutions for enterprises across various sectors. |
| | |
| --- | --- |
| Amplus Global | Provides dynamic video surveillance systems to residential complexes, commercial shops, schools, transportation systems and various other government projects. |
| Arecont Vision Costar | Manufactures network cameras and megapixel surveillance cameras that offer a large selection of megapixel IP cameras |
| ATOS Global | Provides a range of products including Video Surveillance systems, fire alarms, access control systems, entrance control systems, intrusion alarm. |
| Avigilon | Provides High Definition Stream Management technology that preserves video image integrity while managing bandwidth, open video management software, superior HD camers and more. |
| CARE Systems | Offers services in the areas of Access Control, Video surveillance, Fire Detection, Perimeter Protection, Home & Building automation Systems. |
| Cognoid | Develops IR Bullet Cameras which are meant for capturing images using digital components and are used for CCTV home surveillance purposes at shops and other major institutions of acclaim. |
| Genetec | Offers video analytics solutions to address physical security and traffic monitoring challenges. |
| Howell Protections Systems | Offers Analogue CCTV Camera, IP Cameras/Mega Pixel series Cameras, Video Switchers, Monitors, Matrix, NVT, Balloons etc. |
| Johnson Controls | Provides solutions from access controls to intruder prevention, from video surveillance to cybersecurity. |
| Modern Technologies | Provides services for Design, Installation, Commissioning and Life Cycle Management of the Security Surveillance systems. |
| NSS Security Systems | Provides Electronic Security solutions and CCTV Surveillance Systems for homes, small offices, corporations and commercial establishments. |
| OmniVision | Offers products like Image Sensor, ASIC, ameraCubeChip and LCOS, to a variety of industrial and consumer markets. |
| Prama Hikvision India | Designs and manufactures a full-line of innovative CCTV and video surveillance products ranging from cameras and DVRs to video management software. |
| Sapinfra | Offers products and services like IP/HD Analog CCTV, Video Management Software with integrated Video Analytics Solution, Under Vehicle Surveillance Systems (UVSS) etc. |
| Secutronics | Provides IP Surveillance systems for Schools, Officies and Commercial complexes. |
| Techsis | Provides various solutions like control room and video wall solution, visitor management solution, school security etc. |
| Tracomo | Develops High Quality Programmable Cameras, customized IoT Hardware as per the camera's needs and also provides customized algorithms. |
| Trinity Technologies and Software Solutions | Builds large scale wired and wireless network solutions and provides maintenance service for city surveillance. |
| VNS Technologies | Provides customizable solutions for CCTV, necessary support and technical expertise to complete the integration of the surveillance system. |